Golden Key Spotlight: Brianna Perez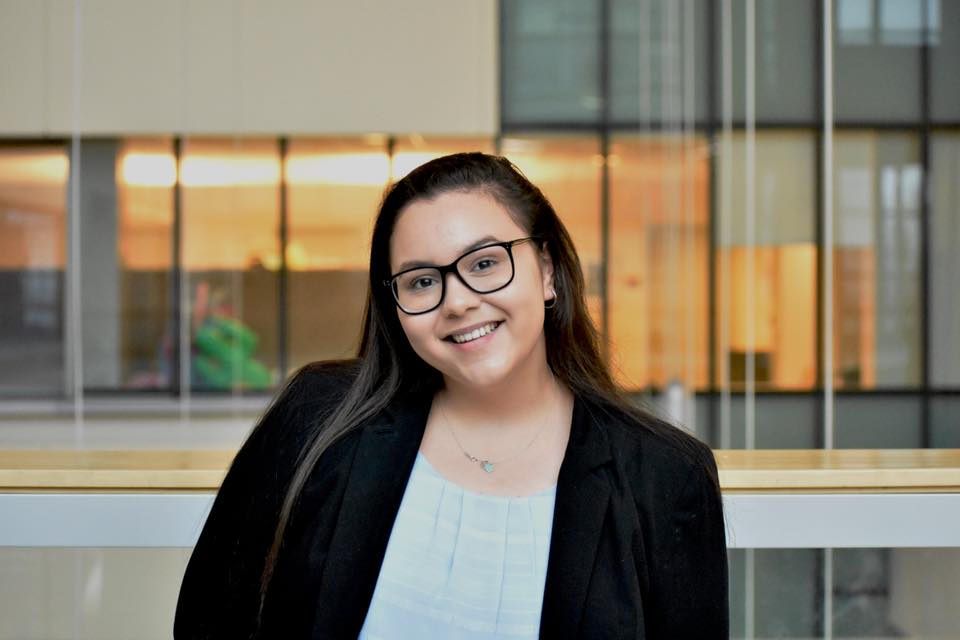 Brianna Perez, a finance major and president of the Golden Key Chapter at Baruch College in Queens, New York, used to be shy. Not that you'd ever suspect it. She is the bold leader of her chapter in the heart of New York City, USA. Brianna's chapter is strong and diverse with over 200 members and and she leads it with fresh ideas that inspire us all. 
We recently had the chance to interview Brianna for a Golden Key Member Spotlight story. Here we share the best of the best from what Brianna had to say about finding your inner confidence, being a leader who cares first, and dreaming of ways to share opportunity with everyone.
Call on your inner Beyoncé.
As chapter president, Brianna often has to motivate a crowd. For someone who is shy, this is a real challenge and Brianna is one who used to be shy.  She could not and would not let her shyness keep her down. When she needs to step in front of the crowd, she summons her inner Beyoncé. 
Not only for her stage presence, which we agree is absolutely fabulous,  but because Beyoncé represents Brianna's inner champion.
"Beyoncé left a successful girl group at the height of their fame so she could become her own kind of superstar," says Brianna. 
When life isn't quite going the way you hoped, dig deep and find your own inner champion – whoever inspires you to be your best self. Feel the energy, take a risk, and rise to meet your challenges head on!
Great leaders care first, manage second.
Through Golden Key, Brianna learned the power and priority of caring for her team first.
"When things go wrong, it's tempting to question the commitment of your team," says Brianna. "So I go the extra mile to find out more." 
By asking what's going on in your team's lives, you'll discover what drives them and what may be holding them back. Being a good listener and helping people find solutions means everybody wins. 
Dream big and pay it forward for those in need.
There is no doubt that Brianna has taken every Golden Key opportunity to grow. She will be graduating Baruch in 2019 with a keen perspective on how to find confidence and how to lead for impact.  She credits her experience with Golden Key for helping her see the potential within herself and build friendships dreams are made of. We asked Brianna if she had millions of dollars to donate, where would that money go? Her response represents everything we love about our members. 
Lifetime Membership – One-Time
If she could, Brianna would donate millions to help give everybody the opportunity to see their potential, starting with the deaf. She dreams of establishing a foundation for deaf children, named in honor of her brother, and is committed to putting technology in the hands of every deaf children to hear. Not all deaf children have the resources to simple hearing technology that can make a world of difference. Brianna believes they all should. Her millions would make sure of it. 
Learn more from Brianna. Take a look at the programs she leads for Baruch. They are bold. They are fun. And they will help make a real difference on your campus.
Chapter Ideas of Gold
Help Freshman Experience the Best of Golden Key
"We started Golden Buddies four years ago at Baruch. We opened it to anyone who's new, first semester freshmen or transfers. Our members volunteer as mentors to help them through their first semester, which can be really overwhelming for anyone making such a huge transition. Our goal is to give them the freedom to learn everything there is to know about Baruch, to have one friend they can go to with any question, even dumb ones. We tell them about all the facilities, resource, and opportunities available to them, and why it's important to get involved. After four years, we think we've done a pretty good job with Golden Buddies. We feel we've done our part by helping someone grow." Learn more.
Grow Your Chapter with a Stellar Team
"Baruch's Committee Member program assigns each person one or more projects that support the chapter. They get an actual title, similar to what they might have at a corporate job, like Director of Marketing or Operations. The tasks we assign will help them grow as student leaders. For example, Committee Members on the Professional Development Committee help find corporate sponsors, set up networking opportunities, and run Baruch's Be Your Own Boss event. This method really works. Lots of Committee Members have become board members, directors or associates, and work to support Golden Key's bigger picture. Just look at me: I used to be a Committee Member and now I'm President." Learn more.
Plan a celebration of diversity
Brianna's favorite Golden Key event at Baruch is International Night, held each spring. "It's so cool to bring all different cultures together and showcase the diversity of our campus," she says. "If I had unlimited funding, I'd love to invite people from all over the world to a huge International Night at Golden Key headquarters, with foods, languages and performances from every culture." Learn more.
---
---