Three Reasons to Add Studying Abroad to Your Bucket List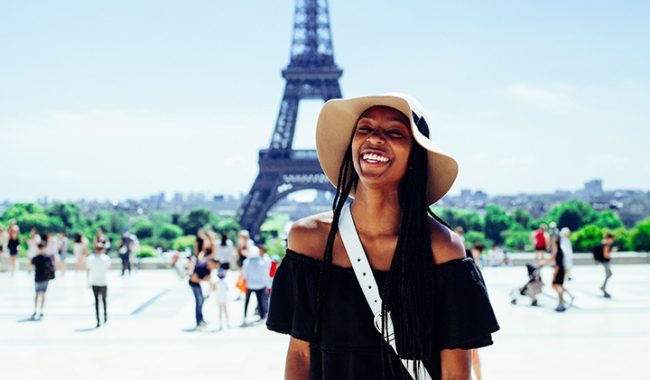 Want an exciting way to enhance your personal and professional life in a short amount of time? Study abroad!
Why is studying abroad so important? If you ask Golden Key member Sherma Noble, she will tell you that "it gives one a wider perspective on other peoples' way of life and their culture which will ultimately enrich one's mind and understanding of a diversified world." Sherma traveled to China last summer with the Business & Entrepreneurship delegation of the International Scholar Laureate Program (ISLP). There, not only did she trek up the Great Wall, but she also "gained knowledge about China's customs on how to conduct business.
Like Sherma, many students have experienced the personal, academic and professional benefits of study abroad programs. Here are three reasons to add studying abroad to your academic bucket list.
Studying abroad requires ingenuity, adaptability, and critical thinking skills, all of which employers seek in potential candidates.
Walking into a new culture without your basic resources (e.g., literacy, personal connections, and local familiarity) challenges you to think of creative ways to complete ordinary tasks. Suddenly a quick trip to the grocery store turns into a three-hour ordeal. You take risks each step along the way, deciding between a taxi and public transportation, asking for directions in another language, buying food you may have never seen before. Sherma attests to this by saying, "The ISLP experience encouraged me to take risks, be a better negotiator, be better in time management, be a better creative thinker, and finally, become more adaptable."
Studying abroad builds your professional and personal network.
Traveling with a group of individuals builds a unique bond as you all experience a new culture together. Sure, you can meet like-minded professionals in your hometown, but when you are working with each other not only to complete a group project but also to survive, you develop a unique bond.
Depending on the type of study abroad program, you may have direct access to experts in your field. For Sherma, "ISLP China gave me an opportunity to form lasting personal and professional connections via ISLP students, advisors, and the many business professionals across China. For that I am eternally grateful." ISLP offers you exposure to professionals and experts in your field whom you may not have otherwise have had access to. You receive concentrated information related to your career, meet others who are passionate about pursuing their career goals, and leave with a new list of connections.
Studying abroad gives you a competitive advantage in the classroom.
Would you rather read about international business from a textbook and a few Forbes articles? Or learn how to start a business overseas from established expat entrepreneurs in Shanghai? Would you like to learn about the startup industry in China from the Internet, or ask your questions directly to local CEOs from a startup incubator in Hangzhou? Studying abroad takes experiential learning to new levels and gives you an opportunity to live your learning. You learn about culture, international issues, and policy not through reading but living it.
"Some of my assumptions of China were shattered as they were replaced with new confirmed facts. Not only have I gained knowledge about Chinese customs on about how to conduct business; I also learnt about climate change, air pollution, the availability of clean water, politics, social practices and their awesome technologies as a nation."
Imagine—in just 10 short days you can connect with knowledge and human resources that you can take with you in your future career path. It's more than a trip for fun. It will change you. You shouldn't leave your academic career without it.
Choose your career delegation. Select a destination. Apply now for 2017 International Scholar Laureate. The deadline to enroll is February 24, 2017.
If you have any questions or would prefer to complete enrollment over the phone, contact ISLP Office of Admissions at (800) 778-0164, email [email protected] or connect with ISLP scholars on Facebook: @ScholarLaureateProgram #ScholarLaureate
---
---