In life, we meet many people along the way, and they all play an essential role in our future. Someone who believes in the importance of meeting new people is Golden Key member Phenyo Mabokela.
"I'm really passionate about helping others because I feel all of the opportunities I have been fortunate to receive have come to me because of the help of other people, who invested their time in me," says Phenyo. "I feel that it's my responsibility to give back to others in every way that I can."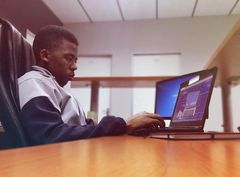 Phenyo gives back to others through the business he founded in 2017, Bespoke Innovations (Pty) Ltd., a corporate branding business. He noticed that South Africa didn't have a large industry for marketing and felt that it would be a good industry for him to be innovative and become a player in.
Phenyo has been a member of Golden Key since 2017 and currently serves as the Director of Community Services for the Golden Key Alumni Committee of Golden Key Southern Africa. Phenyo previously served as the Public Relations Director of the Golden Key Wits Chapter from 2017 to 2018.
"I'm grateful to Golden Key, to every Golden Key individual that I've met and those that I have not met because I feel that it is one of the things that has helped me, and it has also contributed a lot to open doors," expresses Pheyno. "Golden Key puts you a step forward when you are doing applications for different things whether at institutions or programs as well. I want to express my gratitude not only to the organization, but to everyone who's part of this, because that's what makes Golden Key, Golden Key."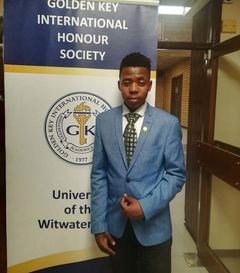 In July, Phenyo will graduate with his Bachelor of Commerce in Accounting, Marketing, Management Accounting and Finance from the University of Witwatersrand. He recently applied for a business school in Madrid, where he intends to pursue his Master's in Business and Innovation.
"This is a big step because it would be the first time that I am leaving the country," Phenyo says. "It does mean I might not be able to be with my parents or my identical twin or my brother, but at the same time, I feel that it is a perfect opportunity to broaden my horizons for my career."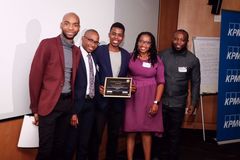 Phenyo looks for opportunities amongst everything he does and encourages others to do the same.
"If I were to advise my younger self, I would tell him to believe that everything happens for a reason and nothing is a mistake," said Phenyo. "I'm only 23, but in the short life that I've lived, I've seen that in most instances that I thought were setbacks were actually positioning for bigger opportunities. And most of the time, I beat myself up for it, and over time I learned that different challenges that come, the different setbacks, there is usually opportunity behind it."