College is a big decision, but it can be one of the best decisions in many people's lives. One person who made the decision to go back to college is Golden Key member Jhana Chambers. 
"The opportunity to go back to school was a unique opportunity," Jhana admits. "I originally went to college to be a chef. I worked as a chef for a few years and then had a terrible car accident that required a career change. If it were not for the car accident, I would not have gone back to school, but I am glad that I did. My life would be different without having the opportunity to go back to school. It would not be terrible, but different. Being able to go back to school allows for me to have an amazing life."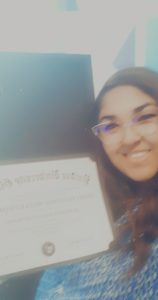 Jhana is pursuing a master's in Health Education at Purdue University. She was inspired to follow this career path after discussing her desire to teach at the college level with her school advisor while pursuing her B.A. in Nutrition at Purdue University.
"College education is becoming more of a requirement at places of employment," says Jhana. "Although some people have not gone to college and became successful, statistics show that people with higher levels of education have a better career, better income, and better socioeconomic status. In addition, college teaches you a lot about a career choice that may not be learned in on-the-job training, and I believe that having a college education will benefit my future career in many ways."
Jhana has been a member of Golden Key since 20XX. She feels that Golden Key has encouraged and taught her how to balance a school and home life and enjoys participating in GK seminars.
Jhana says, "Golden Key has affected my life by allowing me to take training related to career and personal growth, apply for scholarships and share my membership with possible employers."
Jhana's college journey has been a unique one, from getting her associate's degree to returning for her bachelor's and deciding to pursue her master's. This unique journey has also come with some unique challenges.
"A unique challenge that I had in my life was losing my brother a few months after I began my bachelor's degree," Jhana reveals. "My school was helpful in allowing me to take a temporary leave of absence. I overcame this by taking the time I needed before going back to school and scheduling the time I would work on schoolwork, which allowed for me to stay on schedule, even while grieving."
If Jhana could offer her younger self any advice, she would tell herself, "to not stop at an associate's degree, keep going in school as much as possible; I would also tell myself to stay in contact with teachers and advisors about career advice. I have done so, and it has been very beneficial."