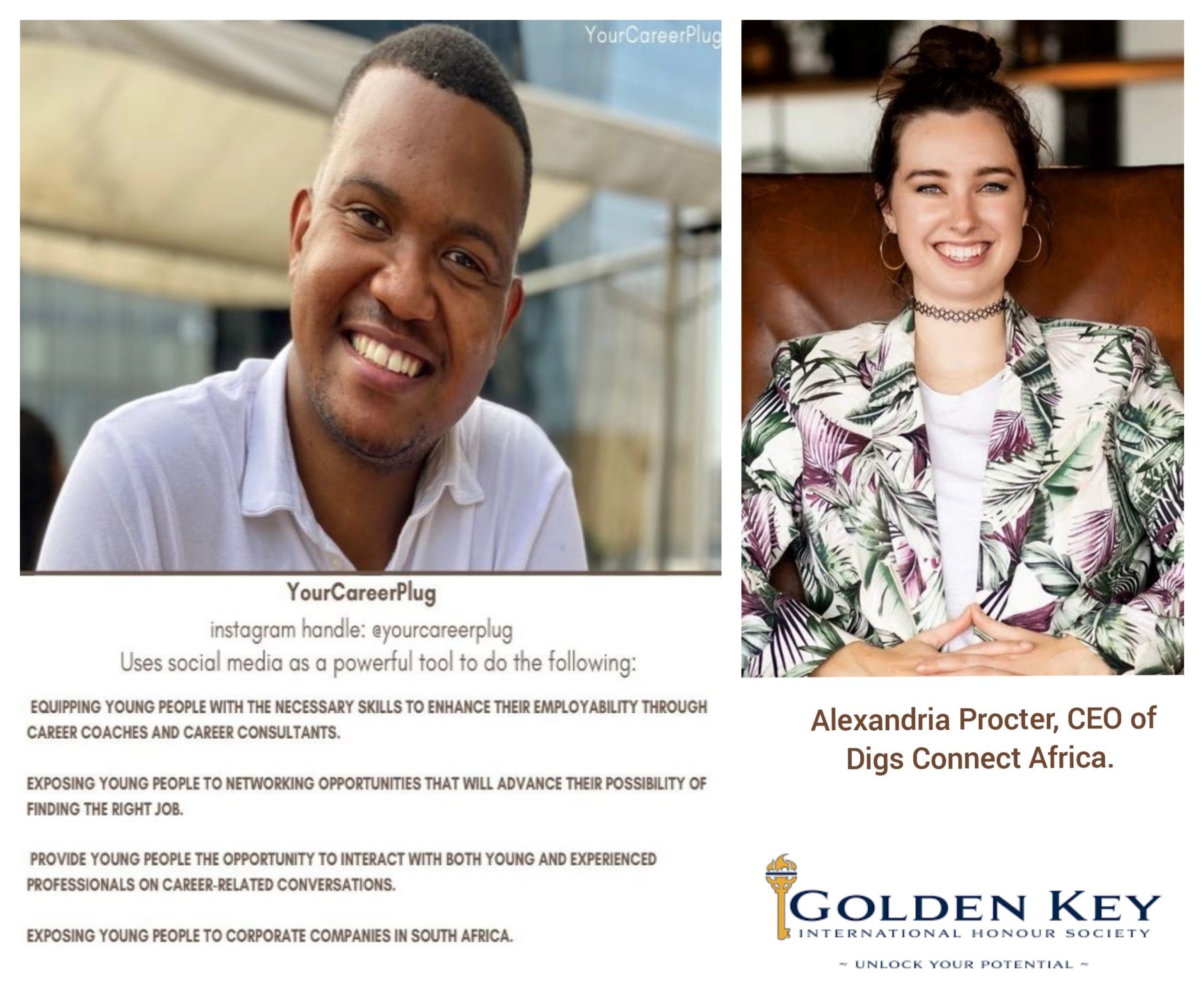 Career Guidance Series - Part 1 Go to Chapter
Golden Key UCT in collaboration with YourCareerPlug will interview a
guest from whose career journey members of GK can be encouraged
and empowered to start and continue to build their desired career.
The participants will be able to interact with the guest by asking
questions or for opinions from them.
The Guest for this event is Alexandria Claire Procter, the Chieft Executuve Officer of Digs Connect, the fastest growing marketplace for student accommodation in Africa. Alexandria will share tips on how tto efficiently establish a career in this eveer channging world.
Location
University Of Cape Town, South Africa
Starts
Apr, 10 2021 04:00 PM
Time zone
Africa/Johannesburg
Ends
Apr, 10 2021 05:00 PM
Time zone
Africa/Johannesburg
Contact Information
University of Cape Town Golden Key Society https://eur01.safelinks.protection.outlook.com/?url=https%3A%2F%2Fwww.goldenkey.org%2F&data=04%7C01%7CALSMER002%40myuct.ac.za%7Cb0a0f4b5c8de404b208808d8f93ecb8e%7C92454335564e4ccfb0b024445b8c03f7%7C0%7C0%7C637533395385783467%7CUnknown%7CTWFpbGZsb3d8eyJWIjoiMC4wLjAwMDAiLCJQIjoiV2luMzIiLCJBTiI6Ik1haWwiLCJXVCI6Mn0%3D%7C1000&sdata=itN%2FZ4PlsBEMIfgnXLtWTC0irLoMXy3C3c2Q2E8UcL8%3D&reserved=0
https://www.linkedin.com/in/alexandria-claire-procter-36619a134?lipi=urn%3Ali%3Apage%3Ad_flagship3_profile_view_base_contact_details%3BabwZCBebSBW2lsrgj7uEOA%3D%3D