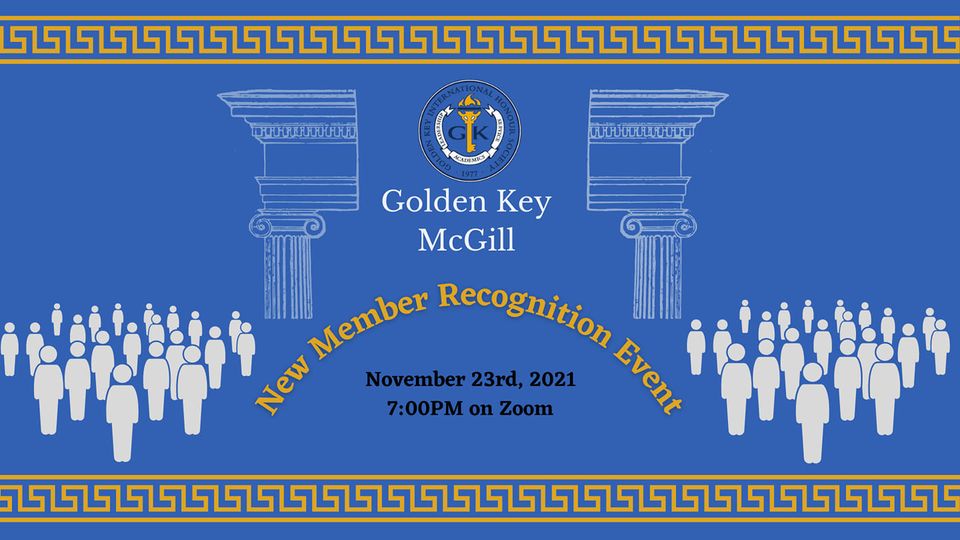 New Member Recognition Event 2021 Go to Chapter
Our New Members Recognition Event took place November 23rd at 7:00 pm. It was an opportunity to meet the newest members of our Golden Key family!
At the virtual event, guest met executive representatives, including Ian Sankey, Golden Key's director of operations in Canada; Emeritus Professor Bruce Shore, Golden Key McGill's advisor, as well as special guest speaker Dominic Larouche, Senior Advisor of Dans La Rue and Cindy Yelle, CEO of the Canadian Olympic foundation. We also announced the winners of our Golden Key Fall 2021 McGill scholarships, and announced the subsequent round of chapter-level scholarships that took place in Winter semester 2022.
Golden Key McGill also believes community service is of great importance. We were pleased to announce a raffle in support of Dans la rue. This amazing non-profit is the only organization in the city which takes a multifaceted approach to support homeless youth and youth at risk of homelessness. Members, when signing up to attend the event, were invited to buy tickets for the raffle ($5/ticket), which was be donated in full to the organization! The donations went towards funding the services and programs (emergency shelter, school, employability, psychologists, nurses, apartments, family services) that these youth need!
Raffle winners each won bundles of merch:
1-2 free coffee cards from La Graine
5 free massages from Massage Addict
3 free prep sessions for final exams at McGill (valued at $99 each)
chef on call online vouchers/gift cards
Sign up was FREE, and family members and friends were invited!
Location
Zoom, Canada
Contact Information
email: [email protected]
facebook: https://www.facebook.com/events/221717963402800?ref=newsfeed