Spirit, honor and bravery, all come to mind when thinking of the women and men who dedicate their lives to protecting their countries. One of these brave men is Golden Key member Cameron Cuevas.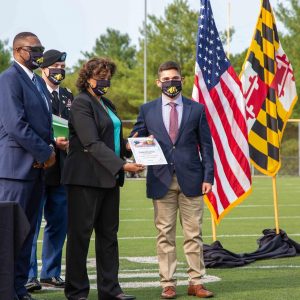 Cameron is studying Management Information Systems at Bowie State University and is a member of the Reserve Officers' Training Corps.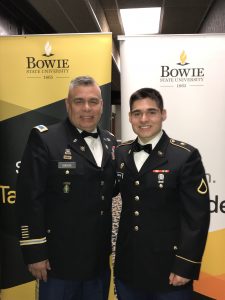 "My biggest influence was definitely my dad," says Cameron. "He was also in the ROTC program in college and watching how his career progressed inspired me to become an Army officer too. Ultimately, I knew ROTC was the best route to fulfill that goal." 
Cameron says one of the best parts of being in the ROTC is the training events he participates in. He and his peers have a passion for learning and push to succeed as much as they can at these events.
"There is an exciting energy that stems from everyone's drive to become a commissioned officer," Cameron explains. "Every time we accomplish the objective, there is a sense that we are one step closer to becoming 2nd Lieutenants in the Army. Having that feeling, that drive, that motivation after each training event is the best part of ROTC."
This passion transfers over to their academics, as cadets must skillfully balance ROTC and academics. Training events last from one hour to four days throughout the middle of the semester. ROTC also includes a three-credit course and one credit lecture and lab, meaning cadets have to be on top of their game.
"Most cadets will take on average 18-21 credits each semester in order to graduate on time," Cameron remarks. "So we learn time management very well."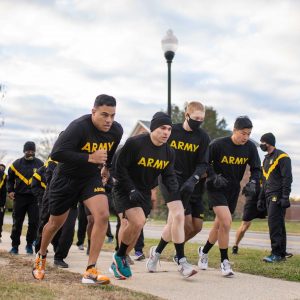 Cameron joined Golden Key in 2020 and enjoys watching webinars on GKA.
"I was really hesitant about joining an honor society because many people will say that they are all scams," admits Cameron. "However, I have no regrets joining Golden Key at all. I feel a sense of belonging and a greater sense of self-pride and accomplishment. Joining Golden Key has motivated me to excel as a scholar and leader in my school as well as ROTC."
Cameron says he didn't realize the value of education until he was in his freshman year of college. 
"Open your eyes! It's hard to see the big picture in things when you are young," says Cameron. "Things like 'get good grades,' 'save your money,' 'invest while you're young,' and all the others never click. Understandably, this is because the portion of our brain that can comprehend the big picture is not fully developed until a later age. But still, I would've told myself to put down the video games and realize the value of education."
Cameron's two most prominent inspirational figures in life are David Goggins and Jocko Willink.
"Goggins makes me find where my limitations are and smash them," Cameron reflects. "Jocko preaches the power of discipline and leadership. They're both retired Navy SEALs, and they are truly amazing. Shoutout to them for helping me become the person I am today."